Faculty Member
Ashwin Dani
Dr. Dani received his M.S. and Ph.D. degrees from the University of Florida (UF), Gainesville, FL, USA where he was a part of the Nonlinear Controls and Robotics group in the Mechanical and Aerospace Engineering department. He was a Post-Doctoral Research Associate at the University of Illinois, Urbana-Champaign, IL, USA. In 2013, he joined the faculty of Electrical and Computer Engineering (ECE) as Assistant Professor at the University of Connecticut, Storrs, CT, USA, where he is currently an Associate Professor. His current research interests include machine learning for control, human-robot collaboration, and perception. Dr. Dani serves as a member of the conference editorial board of IEEE Control Systems Society (CSS). His work has been recognized by the Tammy L. Blair Best Student Paper Award—1st runner up in 2016, ASME Dynamics Systems and Controls Conference Best Student Robotics Paper Award in 2015, IEEE CSS Video Contest Award in 2015, UConn's Outstanding Teaching Award from ECE in 2015 and AAUP-UConn Chapter's Teaching Innovation Award. Dr. Dani's primary research interests are machine learning, estimation and control with applications to autonomy, robotics, and manufacturing. Broad research interests include designing human-autonomy collaboration, machine learning, autonomous navigation, and multi-agent systems.
 Phone: (860)-486-3344
 E-mail: ashwin.dani@uconn.edu
---
Graduate Students

Iman Salehi
Major: Electrical and Computer Engineering
Research Interests: Safe learning for control, Learning from Demonstration
Degree: Ph.D.
E-mail: iman.salehi@uconn.edu
---
Ryan Saltus
Major: Electrical and Computer Engineering
Research Interests: Perception (Vision-based Estimation, Controls, Extended Object Tracking)
Degree: M.S.
E-mail: ryan.saltus@uconn.edu
---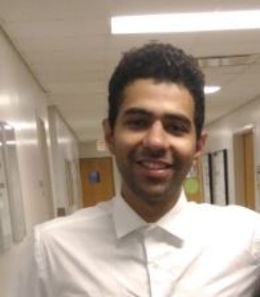 Ghananeel Rotithor
Major: Electrical and Computer Engineering
Research Interests: Perception, machine learning, vision-based estimation/control
Degree: Ph.D.
E-mail: ghananeel.rotithor@uconn.edu
---
Group Alumni
Ph.D. Students
Harish Ravichandar (Graduated 2018)
Research Scientist, Georgia Institute of Technology, Atlanta, GA (2018-current).Gang Yao (Graduated 2020)
Master's Students
Gang Yao (2017) M.S. EE (Position after graduation: joined RCL for Ph.D.)
Nathan White (2018) MEngg (Position after graduation: Senior R&D Engineer, Medtronics, CT)
Samantha O'Connor (2019) MEngg (Position after graduation: Raytheon Technologies)
Daniel Trombetta (2020) M.S. EE (Position after graduation: –)
Undergraduate Students
Jacquelyn Khadijah-Hadju (2013-2014)
Engineer at Applied Physical Sciences Corp, Groton, CT
Elizabeth Baranovic (2014-2016)
Graduate Student at Northeastern University, MA
Maya Dubrow (2015)
Electrical Engineer at General Dynamics
David Paquette (2014-2015)
R&D Firmware Engineer at Coherent
Michael Williams  (2015-2016)
Embedded Systems Engineer at CS Communication and Systems, CT
Daniel Trombetta  (2017-2018)
Graduate Student at University of Connecticut
Ryan Saltus  (2017-2018)
Graduate Student at University of Connecticut
Krishnan Sureshkumar  (2017-2018)